Top 5 Essential 3D Printer Accessories
3D printer accessories are additional tools and parts that meet specific functions or requirements of the 3D printing process.
1.3D Printer Tool Box Kit
2. Ender-3 Direct Extruding Kit
3. CR Touch
4. High-speed Full Hot end Kit
5. High-Temperature Full Hot End Kit
1: 3D Printer Tool Box Kit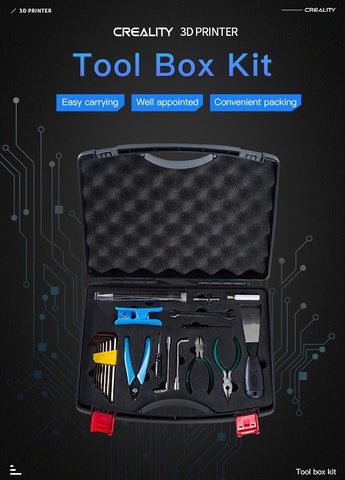 Easy Carrying; Well-appointed; Convenient packing
Features:
1: Tool in the tool kit (shovel; open wrench; Φ0.38mm needle; gap gauge; Φ1.0mm needle; pointed pliers; Chelsea's pliers; pipe cutter; SD reader; cross socket wrench; knife; pliers; a screwdriver; Phillips's screwdriver M6 socket wrench; M8 socket wrench; tweezers; Allen hexagonal wrench)
2: Strong and durable: The steel tools are made of 45 carbon steel with high strength and good mechanical properties.
3: Small box, easy to carry: The small size of the toolbox is made of foam to reduce weight, making the box lighter and easy to carry.
4: High strength, good toughness: The toolbox is made of ABS material with high density. ABS material has the characteristics of heat resistance, impact resistance, low-temperature resistance, chemical resistance, and stable electrical properties, which makes the box sturdier.
2:  Ender-3 Direct Extruding Kit: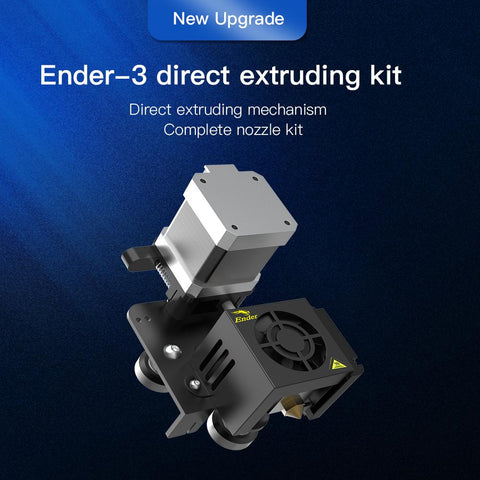 A:   Two in one straight extrusion device:
1, straight extrusion mechanism, 2, complete nozzle device
B:  All-metal integrated structure:
 All-metal housing with oxidized surface treatment, strong and wear-resistant; integrated structure, easy to wire and replace.
C:  Direct extrusion smooth feeding:
 High-quality motor: Reduce the torque requirement of the stepper motor, reduce the possibility of nozzle clogging when retrieving filament, and fail when loading new filament.
Uniform feed: Direct extrusion is much more uniform than Bowden extrusion
D: High-temperature printing with high compatibility:
Compatible with more types of filaments such as flexible TPU when printing at high temperature. TPU printing performance can be optimized.
E:  Easy to install and use:
It can switch between direct extrusion or Bowden extrusion at any time, and easy to disassemble. It does not affect the inherent function of the printer, as it is a complete extrusion tool.
3:  CR Touch
A:  CR Touch is a 3D printer platform leveling solution developed independently by Creality 3D Institute based on hundreds of millions of user data used by creators.
B:   Compared with traditional auto-leveling, it is compatible with more 3D printer platforms, more stable, and more cost-effective.
C:   CR Touch is upgraded to a metal probe, which reduces wear and tear and greatly extends the service life.
How to upgrade the CR touch:
Download the CR Touch program from Creality 3D's official website and copy it to a TF/SD card. Insert it directly into the card slot of the 3D printer. The program can be updated after power on.
4:  High-speed Full Hot end Kit: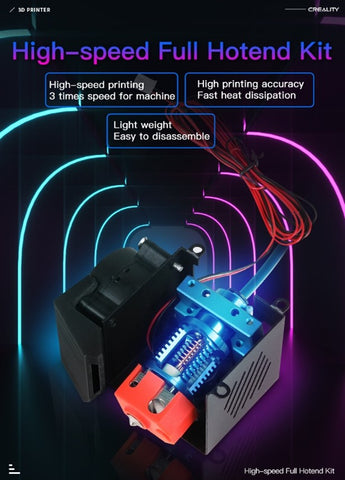 High speed printing: 3 times the speed of the machine
High printing accuracy: Quick heat dissipation
Lightweight: easy to disassemble
Thermistor and heating tube: High-quality thermistor and heating tube
Throat: Excellent insulation performance to ensure long working time without clogging
Nozzle: optimized design of flow channel, smooth inner wall and contact surface, the less clogging problem
High-quality heating block + radiator + double fans:
With heat block and hot block. Good heat dissipation and not easy to clog the head.
High power fan design makes heat dissipation more even and accelerates model solidification.
Overall frame rigid structure:
New generation 3D printing nozzle with the all-metal kit and high-temperature 300°C.
5: High-Temperature Full Hot End Kit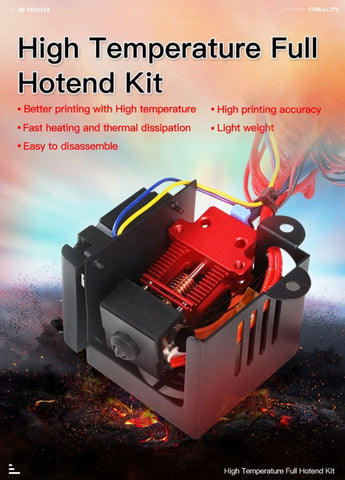 Higher temperature printing for better results
High printing accuracy
Fast heating and heat dissipation
Lightweight
Easy to disassemble
Excellent heat and temperature resistance:
The nozzle preferably forged from high-temperature resistant alloy; the whole nozzle assembly can reach 300°C.
Rigid overall frame construction:
New generation 3D printing nozzle with the all-metal kit, high-temperature 300°C. Smooth throat and nozzle inner wall. Low resistance to material movement, full melting, and smooth extrusion.
More efficient heat conduction: Advanced thermostat and heating tube assembly are used for fast temperature rise and timely sensing of nozzle temperature.