Ender-3 S1 vs Ender-3 V2 and Ender-3 Pro
Since the birth of 3D printing in the 1980s, we have often used it in mold manufacturing, industrial design, and other fields. With the continuous development of modern technology, more and more desktop 3D printers have appeared in our sight, and lots of people have become 3D printing enthusiasts. Numerous users have praised Creality Ender-3 Pro for its convenient assembly and excellent printing effect since its birth. It won the title of 2020 Best 3D Printer on the ALL3DP platform. Afterward, the upgraded version of Ender-3 Pro, Ender-3 V2, won the 2021 Best Budget 3D Printer on the ALL3DP platform.
Creality, as a professional 3D printing research and development company, constantly pursues innovative functions and excellent user experience. Therefore, we continued the classic design, upgraded the Ender-3 series, and gave birth to the new product, Ender-3 S1.
Ende-3 S1 attracted attention as soon as it came on the market. Many wondered what upgrades it would have and agonized over which of the three 3D printers to choose. This article will answer your doubts and compare Ender-3 S1 with Ender-3 V2 and Ender-3 Pro.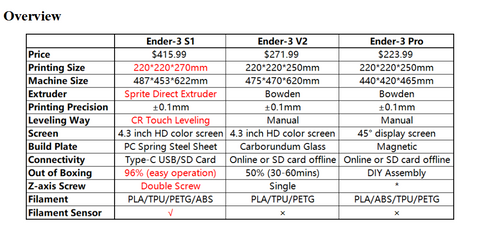 As you can see from the table above, both Ender-3 Pro and Ender-3 V2 use Bowden extruder and support various print filaments. The overall machine size of Ender-3 V2 is slightly larger than Ender-3 Pro, but they have the same printing size.
Ende-3 Pro adopts 40x40 aluminum extrusion for the Y-axis base, which allows the machine to have better stability during the printing process and ensure printing quality. It uses a "C-mag" magnetic sticker on the build plate, which can be disassembled entirely, making it more convenient to remove the model after printing.
Ende-3 V2 has some upgrades compared to Ender-3 Pro. We added a rotary knob to the extruder, making it easier to squeeze filament material in. As customers reported that the timing belt of previous models was not tight enough during model printing, Ender-3 V2 added two XY-axis tensioners to solve this problem.
So what are the upgrades of Ender-3 S1?
Creality Ender-3 S1
First of all, the blockbuster upgrade of the extruder. Ender-3 S1 chose the self-developed "Sprite" dual-gear direct extruder. Compared to the typical Bowden extruder, the direct drive extruder is mounted to the print-head. The motor can easily push filament through the nozzle, resulting in fewer extrusion-related issues (such as printing filament waste). Ender-3 S1 also has higher filament compatibility due to the direct extruder. With the extruder mounted to the print-head, the extra weight adds speed constraints and may cause more wobble, possibly losing some accuracy in X and Y movements. However, the "Sprite" dual-gear direct extruder weighs only 210 grams, avoiding this problem.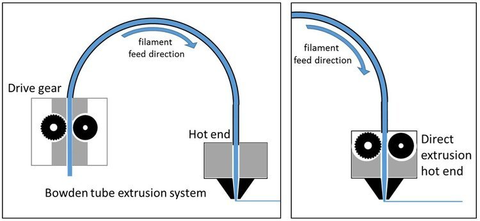 Then came the escalation of leveling. Ender-3 S1 uses auto-leveling with CR-Touch. The CR-Touch is more accurate than the BL-Touch. The metallic sensor pin of the CR-Touch cannot collide with the print bed because it is always automatically retracted. The CR-Touch has an optical sensor that is not as sensitive to external interference as the Hall sensor in the BL-Touch. So the standard deviation and the repeatability of the CR-Touch are much better than the BL-Touch.
Next is the new design of Z-axis dual-screw and dual-motor. Ender-3 S1 has upgraded to the dual Z-axis design, which can add stability to the X-axis gantry to improve printing quality and reduce the wear on the mechanical components.
Moreover, Ender-3 S1 combines the advantage of PC spring steel with a magnetic sticker for better build plate adhesion and a good experience for model removal.
Last but not least, Ender-3 S1 is 96% pre-install. When you receive the package and can't wait to try your new printer, you can install it quickly, which is also very friendly for newbies.
Buying Suggestions
Overall, Creality Ender-3 Pro, Ender-3 V2 and Ender-3 S1 are all very suitable for beginners as their first 3D printer. If your budget is sufficient, then we recommend the new Ender-3 S1 the most. It has made many upgrades based on previous Ender-3 series, and has more complete and powerful functions, which can bring you a very excellent 3D printing experience.
If you have limited operating space and want a more space-saving 3D printer, Ender-3 Pro will be your best choice. Its durability and stability are also very good and can bring a relatively good printing experience, with a high cost performance.
If you want to experience more functions than Ender-3 Pro, but don't have that much budget, then Ender-3 V2 is perfect for you. It is an upgrade based on the Ender-3 Pro, and is cheaper than the Ender-3 S1.
The above is all about the introduction of Creality Ender-3 Pro, Ender-3 V2 and Ender-3 S1. Hope you can buy your dream 3D printer!