Direct Drive VS Bowden Extruder
May anyone confused about what is 3d printer direct-drive and Bowden drives extruder systems? What are the differences? How do they make a different effect on 3d printing? Today let's learn the basics understanding of Direct Drive and Bowden Extruder on the FDM 3d printer. Then you will find out which kind of 3d printer extruder perfect for you?
Before learning about the difference between Direct Drive and Bowden Extruder, it is necessary to know the common 3D printer parts and components below:
Hot-end Components: The hot-end components mainly include nozzles, heat blocks, and radiators installed on the 3D printer frame, especially on FDM 3d printer, The heating block and nozzle assembly are heated by the resistance cartridge heater. The rest of the heat sink and hot end assembly is called the cold end. Although the heat sink itself is not cold, it separates the heat sink from the rest of the components and dissipates the heat. For the purpose of this article, for the sake of brevity, we will refer to the hot end component by its name or simply "hot end".
Extruder Components: Extruder components include stepper motors, knurled bolts or drive gears, and idlers mounted on the 3D printer frame or frame. The extruder includes motors, gears, and idlers, while the assembly adds the remaining components.
PTFE Tubes: PTFE means Polytetrafluoroethylene, with its most renowned variation being Teflon. This tube is normally attached to either assembly utilizing push-fit adapters or fittings to provide a smooth change from the extruder to the hot end.
What are the differences- Direct Drive VS Bowden Extruder
Bowden Extruder
Unlike direct extrusion equipment, a Bowden extruder is placed on the printer's framework. It pushes and pulls filament with a long PTFE Bowden tube and also right into the warm end. This system likewise has pros and cons.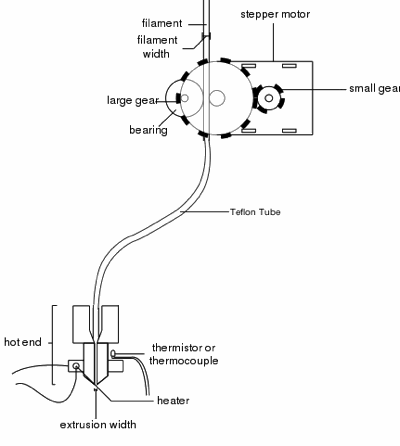 Pros:
Cleaner Movements: Given that a Bowden extruder is mounted on the printer's structure as opposed to on the print head, much less weight gets on the carriage. Less weight indicates quicker, quieter, as well as better prints.
Larger Build Volume: A Bowden extruder enables a smaller sized print head carriage, which, subsequently, allows for increased build volume.
Compact Dimension: Bowden extruders are normally extra compact, occupying less room than a normal straight extruder.
Cons:
1.More Powerful Electric Motor: Since a Bowden extruder is pushing and pulling filament through a lengthy tube, a particular quantity of friction exists between the two. This rubbing requires more torque to manage filament.
2.Slower Feedback Time: More friction in the Bowden tube additionally converts to reduce response time. Bowden extruders need longer and also much faster retraction to stay clear of string.
3.Smaller Sized Variety Of Products: Some flexible and rough filaments can easily bind or use in Bowden tubes.
Direct drive
Direct drive also called a system of Direct extrusion, it is an extrusion method by which the extruder pushes the filament directly into the nozzle. This method is useful for many reasons, but also with some disadvantages. Let's check.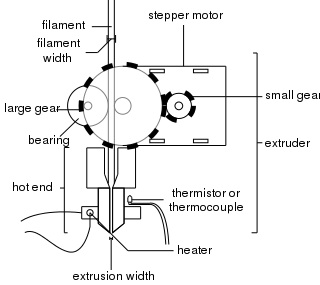 Pros:
1.Better Extrusion: Given that a straight extruder is placed to the print head, the motor can quickly push filament with the nozzle, allowing for much better extrusion.
2.Quicker Retraction: Since the extruder is close to the nozzle, the direct extruder can rapidly withdraw filament.
3.Less Effective Electric Motor: As a result of the brief range between the extruder and also nozzle, less torque from the electric motor is required to press filament.
4.Broader Range of Filaments: A direct extruder works with a wide range of filaments. Despite having versatile and rough products, straight extrusion permits trusted printing.
Cons:
Burdened Activities: With the extruder placed to the print head, weight is obviously added. This additional weight includes rate restraints, triggering more wobble and also possibly a loss of accuracy in the X and Y axes.
Which system is much better? It depends. Before you determine which extrusion layout to utilize for your printer, you need to take into consideration some essential elements.
The first is structure security. Delta printers, as an example, can not sustain a direct extruder. If, however, your Cartesian or CoreXY printer has a tough framework, printing with a straight extruder should be no problem. Rate is additionally a choosing variable. If your top priority is quick, accurate printing, with basic materials, Bowden extrusion will be more adequate.
Finally, you must take into consideration the products you would love to print. If you're interested in versatile or abrasive filaments, a drive extrusion system is likely the one for you.
Now in the 3d printing market, most types of the FDM 3d printer are with the Bowden Extruder for normally printing with 3d filament of PLA while the enclosed 3d printer comes with direct drive mostly. Some customer is thinking about if they can change the extruder themselves on their DIY 3d printer. Typically for printing other kinds of 3d printing materials, like TPU, PETG, might be with ABS as well sometimes.
Is there a DIY 3d printer so that I can change the extruder by chance? How can I have a 3d printer with Bowden extruder and direct drive both at once?
In 2019, Creality had released a DIY 3d printer
CR-10 V2
that you can add the direct-drive yourself. it comes with the normal Bowden extruder, but design a special connector on the extruder near the hot end. Some of our customers have an open box review for it, and the feedback of CR-10 V2 is quite good with precise prints. If you are interested in having the direct drive on your 3d printer, but it will good to go with buying another direct drive.
For better user-experience, Creality recently has this idea and decide to update the CR-10 V2 to
CR-10 V3
with the direct drive so that customer can print with other kinds of filaments immediately once received the 3d printer. Especially one point I'd like to mention is that the CR-10 V3 comes with the Bowden extruder for reserved in the box as well. This decision extremely makes a difference from another 3d printer.